As part of my "Make Sewing Fun Again" directive, I made a 20's inspired dress.
I have more photos than usual, so you can see all the angled pieces and godet and handkerchief inserts. I got a lot of practice sewing inset corners on this dress.
The fabric and ribbon was purchased from the Alannah Hill Outlet in Fitzroy during my holiday earlier this year. The outer is a polyester georgette and the inner is a polyester satin. I was looking at patterns and directions to draft patterns for a 20's dress, but then I decided I could achieve a more flattering result by adapting a more modern pattern.
I started with the OOP Vogue 1175 Donna Karan pattern (so, so sad that there are no more Donna Karan and DKNY patterns from Vogue).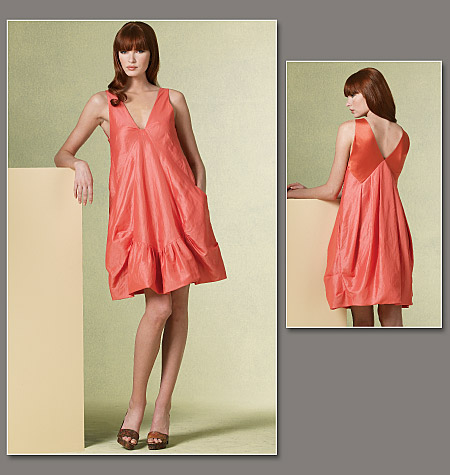 I can't remember all the changes I made, but here is a photo I took whilst cutting out the back. I used the back lining instead of the pleated back outer. I extended the lining to the shape shown by the right-angled ruler. The CB is actually a bit short and the lining hangs below it, so I should have lengthened this all by about 5 cm. I then cut godets to insert in the back skirt.
For the front of the dress, I used the top half of the pattern, with fitting changes to raise the depth of the V. I didn't use the pleated secion of the bottom skirt, instead inserting handkerchief inserts segments.
I sewed the dart in the front bodice before sewing rows of ribbon on top. I used large seam allowances in case the piece "shrunk" with all the sewing of the ribbon. I didn't have specific plans when I bought the fabric and ribbon, but I wish I had bought twice as much ribbon so that the ribbon was more densely spaced.
I used silk crepe for the lining, that I had dyed and not used for a previous project. The colour match was pretty good. The polyester georgette did not press well, so I used a technique that my high school teacher made us use that I have never seen anywhere else. It involves basting all around the edges to hold the layers where you want them, then pressing, then removing the basting stitches. As a high school student I could not see the point of this technique at all, but it seems to have served me well here.
Photos before pressing
Photo after pressing
It was fun :)