I own a lot of patterns. Patterns in envelopes. Patterns in magazines. PDFs. More than can fit in my laundry cupboards. I also like drafting patterns. So really, I probably have very little need to purchase a sewing pattern ever again. But where would be the fun in that? I love seeing new patterns as they are released. So I've decided to play a little game. You can play too, if you like. Each season I am going to put together a collection of patterns for that season. It takes a bit of thinking about, but I have been suffering insomnia of late, and mentally reviewing all the patterns out there is more enjoyable than counting sheep.
The Rules.
1. 6 patterns. Why 6? I always loved that article in the fashion magazines that takes 6 items of clothing to mix and match. They would use these 6 garments to create 6 outfits, presumably one for each day of the week, and then you can sit around in your underwear on Day 7 whilst you do the washing. This way, if you like wearing dresses, you could just pick 6 dresses and wear a different one each day. If separates are more your thing, you can have a few basics and still have a hero piece, maybe a coat, or and evening dress, or some other special item. If you were to sew all the garments i none season, you would average a new garment every 2 weeks, which sounds doable. A more prolific sewer could make up several versions of the same pattern to create a large wardrobe.
2. The patterns must be currently available. You know, to save that frustration of falling in love with a sewn garment only to find out that you cannot get your hands on the same pattern, short of spending some serious cash on ebay.
3. Each pattern must be from a different company. Whoa, this made it a little hard. I tend to rely on the same pattern companies over and over. Also, I only trust a couple of companies to make pants patterns, which means all the other items have to come from somewhere else. This rule really pushed me to explore the options out there.
My Autumn is pretty warm. I think it is warmer than Spring. My last day of Summer was 35°C so I will still be wearing summery clothes for a few weeks yet. Perhaps by the end of Autumn, I will have made it to a long sleeved t-shirt, possibly jeans and a scarf, but it will only be the very end of Autumn.
1. Tessuti Annie Dress
This is my "hero" piece. I love all the apron tops and dresses out there at the moment. This dress would be perfect for any occasion where I'd like to dress nicely (you know, leave the house, be with people other than my immediate family). I would love it made up in a small scale geometric print (I'm looking at
this seersucker
), but made up in a plain linen, it would be the perfect showcase for some funky jewelry.
2. Burdastyle Pleated Shorts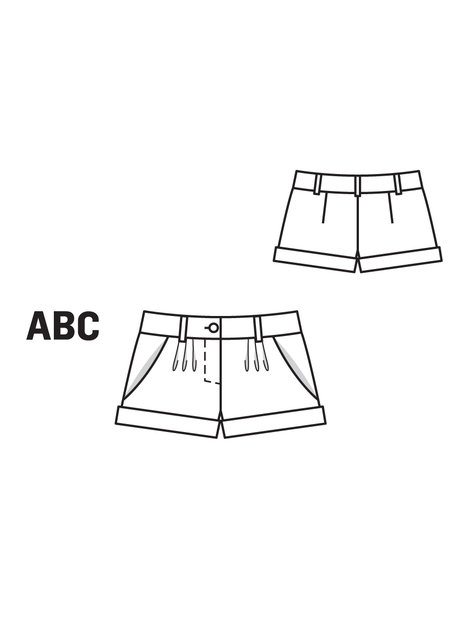 Shorts are my every day. As the weather gets cooler, I"ll just choose warmer tops. I love the length of these, and the roomy pleats. I also like that they sit on the lower waist.
3. StyleArc Ebony Woven Pant
There have been a few different variations of pegged, pleated pants patterns released in the last year or two, but I like that these ones have a bit of a twist with the front pleat. I think that could make them dressier, in a plain fabric. They are designed for wovens, but I think they would look great in a drapy knit as well.
4. Liola Patterns Sparrow Top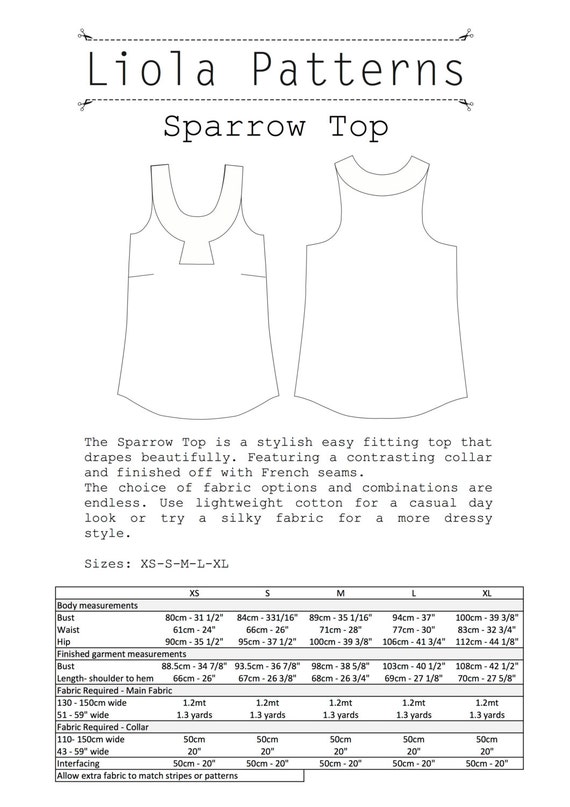 Now onto the tops. This one from Liola patterns is sleeveless, but like I said, it is still pretty warm here. I have not made anything from Liola patterns, but her patterns seem to be very well thought out and I like the versions I see popping up. This would be lovely made up in a drapy silk or rayon, probably using cotton for the contrast yolk so that it would be easier to sew :).
5. Simplicity 1366 Cynthia Rowley View D
View D of this pattern is a variation of a woven t-shirt, with a boat neckline and elbow length sleeves. It would work equally well in a a print or a plain, and the proportions would work with both the shorts and pants shown above. A double georgette would be my fabric of choice for this top.
6. Megan Nielsen Briar T-shirt
And last, but not least, a t-shirt. For those days when I need comfort or just a little more warmth. It took me a long time to settle on a t-shirt pattern. I liked the different sleeve and length options on this one. Also, the curved hem is perfect for layering. From my experience, it is a little tricky to hack a pattern and get the perfect curved hem, so I would rather start with this pattern, and modify to a straight hem if I wanted, than start with a straight hem pattern and try to do a curved hem hack.
So, these are my picks for Autumn 2016. What are your picks for this season?